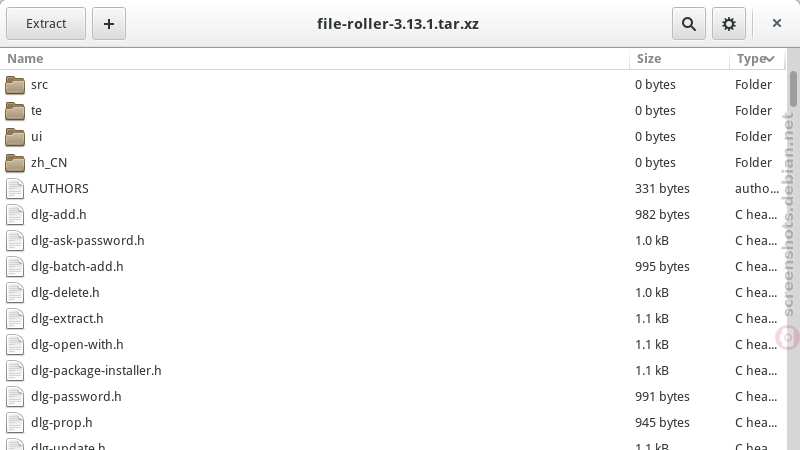 File-roller is an archive manager for the GNOME environment. It allows you to:

* Create and modify archives.
* View the content of an archive.
* View a file contained in an archive.
* Extract files from the archive.
File-roller supports the following formats:
* Tar (.tar) archives, including those compressed with
gzip (.tar.gz, .tgz), bzip (.tar.bz, .tbz), bzip2 (.tar.bz2, .tbz2),
compress (.tar.Z, .taz), lzip (.tar.lz, .tlz), lzop (.tar.lzo, .tzo),
lzma (.tar.lzma) and xz (.tar.xz)
* Zip archives (.zip)
* Jar archives (.jar, .ear, .war)
* 7z archives (.7z)
* iso9660 CD images (.iso)
* Lha archives (.lzh)
* Single files compressed with gzip (.gz), bzip (.bz), bzip2 (.bz2),
compress (.Z), lzip (.lz), lzop (.lzo), lzma (.lzma) and xz (.xz)
File-roller doesn't perform archive operations by itself, but relies on standard tools for this.
Project site:
http://fileroller.sourceforge.net
Reviews
Quisque aliquet tincidunt turpis eget euismod. Nullam a arcu nec tortor placerat dictum. Sed a orci id metus sollicitudin consequat cursus sed felis. Cras euismod mi ac orci iaculis tempor. Nullam eget suscipit sapien. Nulla eu viverra arcu. Sed in sem sit amet justo porta eleifend. Nam aliquet iaculis tincidunt.
Related
lha, unrar | p7zip-rar, sharutils, ncompress, binutils, cpio, rpm2cpio, unace, lzip, lzop, rzip, unalz, unzip, zip, zoo, xz-utils, arj
We should render this packages through an ajax call