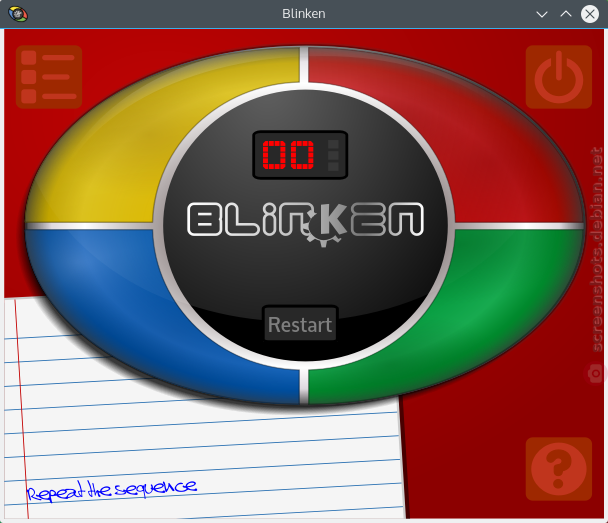 Blinken is based on an electronic game released in 1978, which challenges players to remember sequences of increasing length. On the face of the device, there are 4 different color buttons, each with its own distinctive sound. These buttons light up randomly, creating the sequence that the player must then recall. If the player is successful in remembering the sequence of lights in the correct order, they advance to the next stage, where an identical sequence with one extra step is presented.

This package is part of the KDE education module.
Project site:
http://edu.kde.org/
Reviews
Quisque aliquet tincidunt turpis eget euismod. Nullam a arcu nec tortor placerat dictum. Sed a orci id metus sollicitudin consequat cursus sed felis. Cras euismod mi ac orci iaculis tempor. Nullam eget suscipit sapien. Nulla eu viverra arcu. Sed in sem sit amet justo porta eleifend. Nam aliquet iaculis tincidunt.
Related
khelpcenter4
We should render this packages through an ajax call