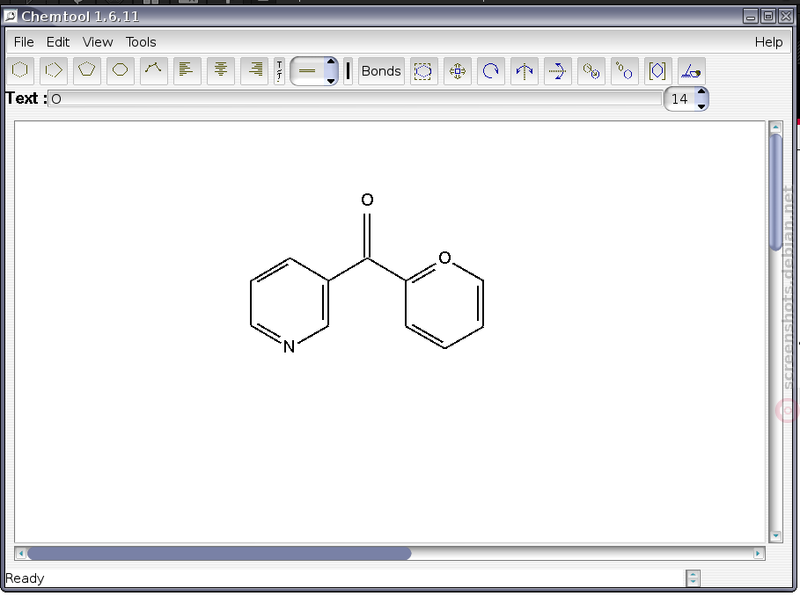 Chemtool is a GTK+ based 2D chemical structure editor for X11. It supports many bond styles, most forms of text needed for chemical typesetting and splines/arcs/curved arrows.

Drawings can be exported to MOL and PDB format, SVG or XFig format for further annotation, as a PiCTeX drawing, as a bitmap or as Postscript files (several of these through XFig's companion program transfig).

The package also contains a helper program, cht, to calculate sum formula and (exact) molecular weight from a chemtool drawing file. Cht can either be called directly by Chemtool or on the console.
Project site:
http://ruby.chemie.uni-freiburg.de/~martin/chemtool/
Reviews
Quisque aliquet tincidunt turpis eget euismod. Nullam a arcu nec tortor placerat dictum. Sed a orci id metus sollicitudin consequat cursus sed felis. Cras euismod mi ac orci iaculis tempor. Nullam eget suscipit sapien. Nulla eu viverra arcu. Sed in sem sit amet justo porta eleifend. Nam aliquet iaculis tincidunt.
Related
xfig, fig2sxd
We should render this packages through an ajax call