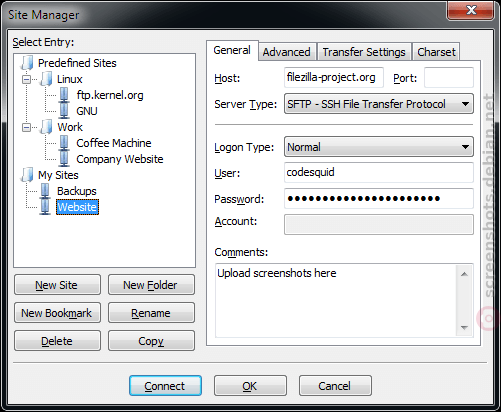 FileZilla is a full-featured FTP client with an easy-to-use GUI.

It is written in C++ and uses the wxWidgets library.

FileZilla includes the following features:
* Supports FTP, FTP over SSL/TLS (FTPS) and SSH File Transfer Protocol (SFTP)
* IPv6 support
* Available in more than 40 languages
* Supports resume and transfer of large files >4GB
* Easy to use Site Manager and transfer queue
* Bookmarks
* Drag & drop support
* Speed limits
* Filename filters
* Directory comparison
* Network configuration wizard
* Remote file editing
* Keep-alive
* HTTP/1.1, SOCKS5 and FTP Proxy support
* Logging to file
* Synchronized directory browsing
* Remote file search
* Tabbed interface to connect to multiple servers

Project site:
http://filezilla-project.org/
Reviews
Quisque aliquet tincidunt turpis eget euismod. Nullam a arcu nec tortor placerat dictum. Sed a orci id metus sollicitudin consequat cursus sed felis. Cras euismod mi ac orci iaculis tempor. Nullam eget suscipit sapien. Nulla eu viverra arcu. Sed in sem sit amet justo porta eleifend. Nam aliquet iaculis tincidunt.