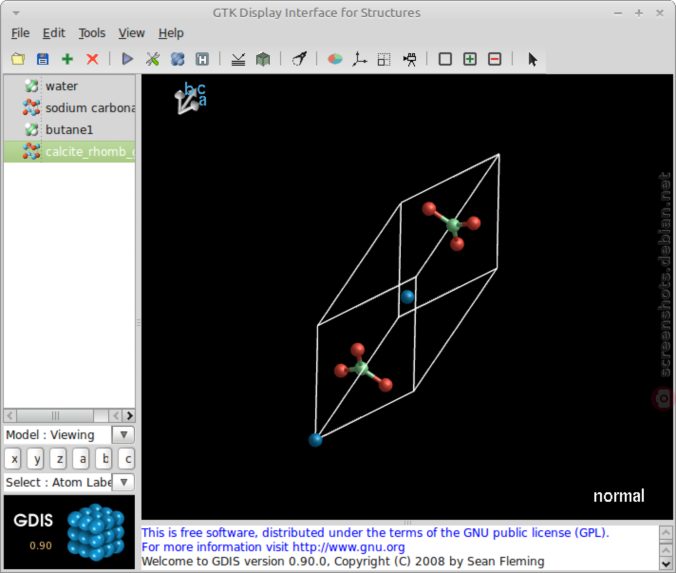 A GTK+ based program for the display and manipulation of isolated molecules, periodic systems and crystalline habits. It is in development, but is nonetheless fairly functional. It has the following features:

* Support for several file types (CIF, BIOSYM, XYZ,
XTL, MARVIN, and GULP)
* A simple molecular creation and manipulation tool
* A dialogue for creating starting configurations for
molecular dynamics simulations
* Assorted tools for visualization (geometry information,
region highlighting, etc.)
* Animation of BIOSYM files (also rendered animations,
see below)
GDIS also allows you to perform the following functions through other packages:

* Model rendering (courtesy of POVRay)
* Energy minimization (courtesy of GULP)
* Morphology calculation (courtesy of cdd)
* Space group processing (courtesy of SgInfo)
* View the Periodic Table (courtesy of GPeriodic)
* Load additional filetypes, such as PDB (courtesy of Babel)

Project site:
http://gdis.sourceforge.net/
Reviews
Quisque aliquet tincidunt turpis eget euismod. Nullam a arcu nec tortor placerat dictum. Sed a orci id metus sollicitudin consequat cursus sed felis. Cras euismod mi ac orci iaculis tempor. Nullam eget suscipit sapien. Nulla eu viverra arcu. Sed in sem sit amet justo porta eleifend. Nam aliquet iaculis tincidunt.
Related
openbabel
We should render this packages through an ajax call