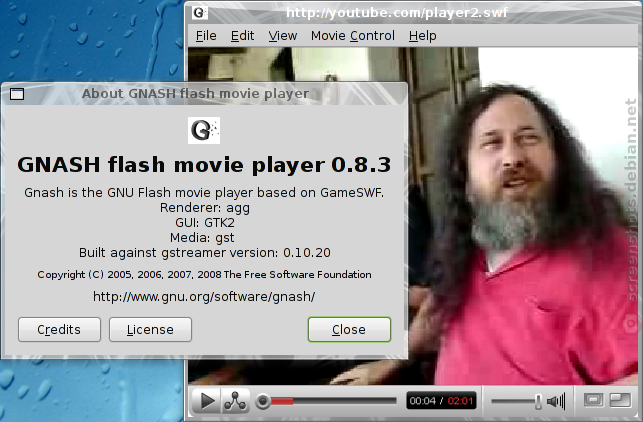 GNU Gnash is a free GPL'd SWF player. It runs as a standalone application on either the desktop or embedded devices, or may be used as a plugin for several popular browsers. It supports playing media from a disk or streaming over a network connection.

GNU Gnash is based on GameSWF and supports most SWF v7 features and some SWF v8 and v9. SWF v10 is not supported by GNU Gnash.

Included in the Gnash is an XML based messaging system, as specified in the SWF specification. This lets a SWF animation communicate over a TCP/IP socket, and parse the incoming XML message. This lets an animation be a remote control for other devices or applications.

This package includes the standalone GTK+-based player that use AGG as the rendering backend.
Project site:
http://www.gnu.org/software/gnash/
Reviews
Quisque aliquet tincidunt turpis eget euismod. Nullam a arcu nec tortor placerat dictum. Sed a orci id metus sollicitudin consequat cursus sed felis. Cras euismod mi ac orci iaculis tempor. Nullam eget suscipit sapien. Nulla eu viverra arcu. Sed in sem sit amet justo porta eleifend. Nam aliquet iaculis tincidunt.