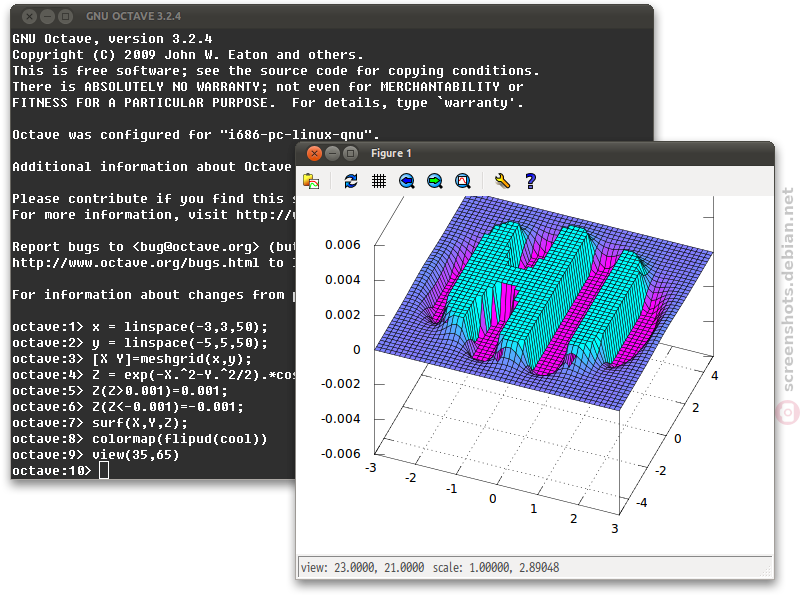 Octave is a (mostly Matlab (R) compatible) high-level language, primarily intended for numerical computations. It provides a convenient command-line interface for solving linear and nonlinear problems numerically.

Octave uses some of the best and most respected numerical libraries as balgen, dassl, eispack, fftpack, lapack, linpack, minpack, odepack, ranlib, slatec-fn and villad. Octave can be dynamically extended with user-supplied C++ files.
Project site:
http://www.octave.org/
Reviews
Quisque aliquet tincidunt turpis eget euismod. Nullam a arcu nec tortor placerat dictum. Sed a orci id metus sollicitudin consequat cursus sed felis. Cras euismod mi ac orci iaculis tempor. Nullam eget suscipit sapien. Nulla eu viverra arcu. Sed in sem sit amet justo porta eleifend. Nam aliquet iaculis tincidunt.
Related
octave3.2-info, octave3.2-doc, octave3.2-htmldoc, octave3.2-headers (= 3.2.4-6), octave3.2-emacsen
We should render this packages through an ajax call