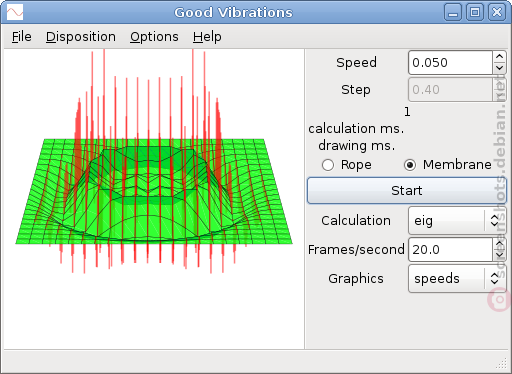 Good ViBrations (gvb) is a small program that aims at providing a nice interface to play with waves in 1 or 2 dimensions.

It features several ways of setting initial conditions, as well as different calculation methods and graphic outputs. It is also possible to dump animation frames to png images in order to make a movie with them.

It relies on the Python library scipy to get the best possible performance in calculations.
Project site:
http://www.pietrobattiston.it/gvb
Reviews
Quisque aliquet tincidunt turpis eget euismod. Nullam a arcu nec tortor placerat dictum. Sed a orci id metus sollicitudin consequat cursus sed felis. Cras euismod mi ac orci iaculis tempor. Nullam eget suscipit sapien. Nulla eu viverra arcu. Sed in sem sit amet justo porta eleifend. Nam aliquet iaculis tincidunt.
Related
ffmpeg
We should render this packages through an ajax call