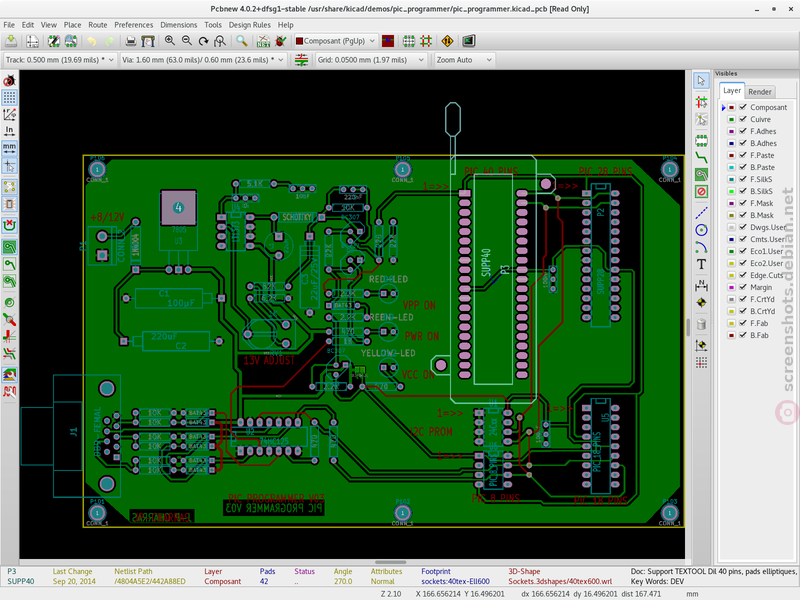 Kicad is a suite of programs for the creation of printed circuit boards. It includes a schematic editor, a PCB layout tool, support tools and a 3D viewer to display a finished & fully populated PCB.

Kicad is made up of 5 main components:

* kicad - project manager
* eeschema - schematic editor
* pcbnew - PCB editor
* gerbview - GERBER viewer
* cvpcb - footprint selector for components
Libraries:
* Both eeschema and pcbnew have library managers and editors for their
components and footprints
* You can easily create, edit, delete and exchange library items
* Documentation files can be associated with components, footprints and key
words, allowing a fast search by function
* Very large libraries are available for schematic components and footprints
* Most components have corresponding 3D models

Project site:
http://iut-tice.ujf-grenoble.fr/kicad/
Reviews
Quisque aliquet tincidunt turpis eget euismod. Nullam a arcu nec tortor placerat dictum. Sed a orci id metus sollicitudin consequat cursus sed felis. Cras euismod mi ac orci iaculis tempor. Nullam eget suscipit sapien. Nulla eu viverra arcu. Sed in sem sit amet justo porta eleifend. Nam aliquet iaculis tincidunt.
Related
kicad-doc-en | kicad-doc-fr | kicad-doc-de | kicad-doc-es | kicad-doc-hu | kicad-doc-ru | kicad-doc-zh-cn
We should render this packages through an ajax call