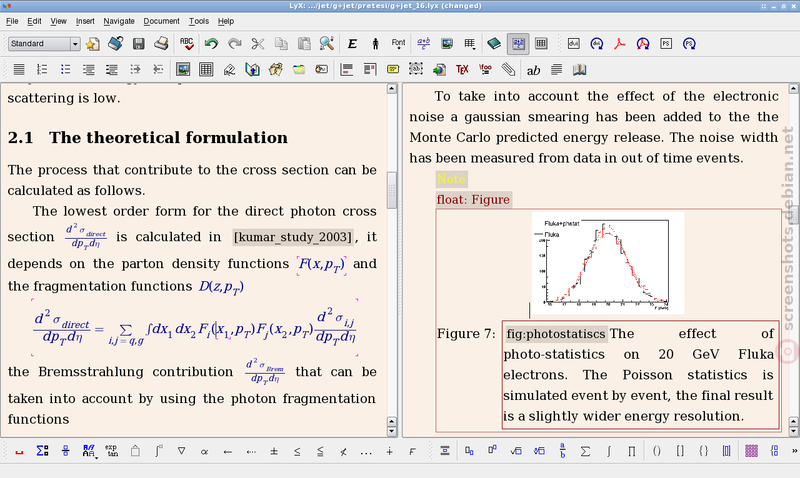 LyX is an almost WYSIWYG-frontend for LaTeX. It makes the power and typesetting quality of LaTeX available for people who are used to word processors. Since LyX supports LaTeX's concept of general mark-ups, it is even easier and faster to create professional quality documents with it than with usual word processors. It is also possible to use LaTeX commands within LyX, so nothing of LaTeX's power is lost.

You can extend the functionality of LyX by installing these packages:
* chktex: check for typographical errors
* dvipost: display tracked changes in DVI format output
* gnuhtml2latex: import HTML documents
* groff: improved table formatting in plain text exports
* librsvg2-bin, inkscape: use the SVG image format in LyX documents
* linuxdoc-tools: export SGML LinuxDoc documents
* mythes-*: use the OpenOffice.org/LibreOffice Thesaurus
* noweb: import noweb files
* rcs: integrated version control
* sgmltools-lite: export SGML DocBook documents
* wv: import MS Word documents

Project site:
http://www.lyx.org/
Reviews
Quisque aliquet tincidunt turpis eget euismod. Nullam a arcu nec tortor placerat dictum. Sed a orci id metus sollicitudin consequat cursus sed felis. Cras euismod mi ac orci iaculis tempor. Nullam eget suscipit sapien. Nulla eu viverra arcu. Sed in sem sit amet justo porta eleifend. Nam aliquet iaculis tincidunt.
Related
rcs, dvipost, elyxer | tex4ht | hevea | tth | latex2html, groff, libtiff-tools, gnuhtml2latex, wv, chktex, noweb, menu, sgmltools-lite, linuxdoc-tools, writer2latex, latex2rtf
We should render this packages through an ajax call