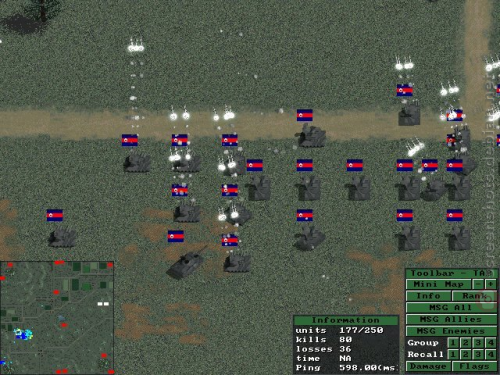 netPanzer is an isometric view real-time tactical game designed for play across the Internet and over LAN systems. One on one games are possible via direct connect or modem.

netPanzer is designed for FAST ACTION combat -- it is not another resource management clone. In fact, there aren't any resources at all. Each player will have many units of different types at their disposal. Players can fight until their units are destroyed -- then respawn and keep on going.

The game is real-time, but it's based on quick tactical action and unit management. Battles progress quickly and constantly; in fact, they never let up. There is no stop in the action because there is no waiting for resources to be collected and converted into weaponry. Players can join or leave multiplayer games at any time.
Project site:
http://netpanzer.berlios.de
Reviews
Quisque aliquet tincidunt turpis eget euismod. Nullam a arcu nec tortor placerat dictum. Sed a orci id metus sollicitudin consequat cursus sed felis. Cras euismod mi ac orci iaculis tempor. Nullam eget suscipit sapien. Nulla eu viverra arcu. Sed in sem sit amet justo porta eleifend. Nam aliquet iaculis tincidunt.
Related
xqf
We should render this packages through an ajax call