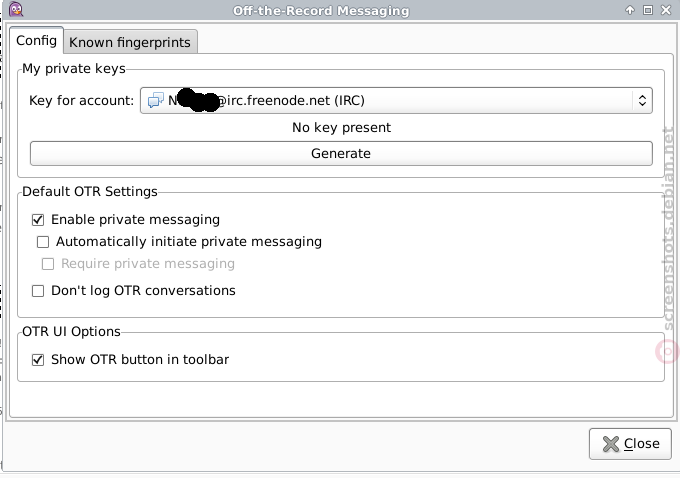 Off-the-Record (OTR) Messaging plugin for pidgin

OTR allows you to have private conversations over IM by providing:
- Encryption
- No one else can read your instant messages.
- Authentication
- You are assured the correspondent is who you think it is.
- Deniability
- The messages you send do _not_ have digital signatures that are
checkable by a third party. Anyone can forge messages after a
conversation to make them look like they came from you. However,
_during_ a conversation, your correspondent is assured the messages
he sees are authentic and unmodified.
- Perfect forward secrecy
- If you lose control of your private keys, no previous conversation
is compromised.
This is a pidgin plugin which implements Off-the-Record (OTR) Messaging.
Reviews
Quisque aliquet tincidunt turpis eget euismod. Nullam a arcu nec tortor placerat dictum. Sed a orci id metus sollicitudin consequat cursus sed felis. Cras euismod mi ac orci iaculis tempor. Nullam eget suscipit sapien. Nulla eu viverra arcu. Sed in sem sit amet justo porta eleifend. Nam aliquet iaculis tincidunt.