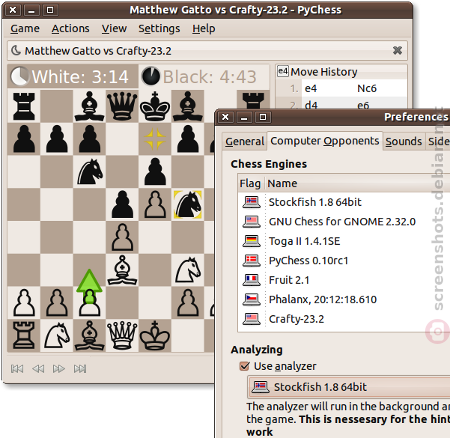 The goal of pychess, is to provide a fully featured, nice looking, easy to use chess client for the gnome-desktop.

The client should be usable both to those totally new to chess, and those who want to use a computer to further enchance their play.

Features include:
Tabbed interface
pgn+epd read/write support
Hints and spymode
xboard/cecp engine support
Builtin Python based engine
Openingbook using sqlite
Clean interface and dialogs
Builtin move validator
Legal move highlighting
Supports drag'n'drop.

Project site:
http://pychess.googlepages.com/
Reviews
Quisque aliquet tincidunt turpis eget euismod. Nullam a arcu nec tortor placerat dictum. Sed a orci id metus sollicitudin consequat cursus sed felis. Cras euismod mi ac orci iaculis tempor. Nullam eget suscipit sapien. Nulla eu viverra arcu. Sed in sem sit amet justo porta eleifend. Nam aliquet iaculis tincidunt.