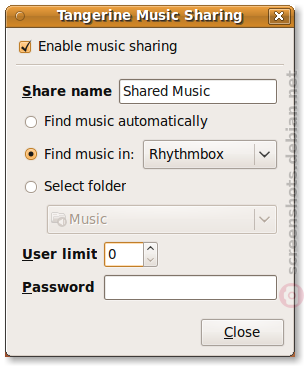 Tangerine is a simple music sharing server that uses DAAP to share your music over the local network.

There are several clients that you can then use to connect to it, such as Apple's iTunes, Banshee, and Rhythmbox.
Project site:
http://launchpad.net/tangerine/
Reviews
Quisque aliquet tincidunt turpis eget euismod. Nullam a arcu nec tortor placerat dictum. Sed a orci id metus sollicitudin consequat cursus sed felis. Cras euismod mi ac orci iaculis tempor. Nullam eget suscipit sapien. Nulla eu viverra arcu. Sed in sem sit amet justo porta eleifend. Nam aliquet iaculis tincidunt.
Related
amarok (>= 2.0), banshee (>= 1.4.2), rhythmbox
We should render this packages through an ajax call