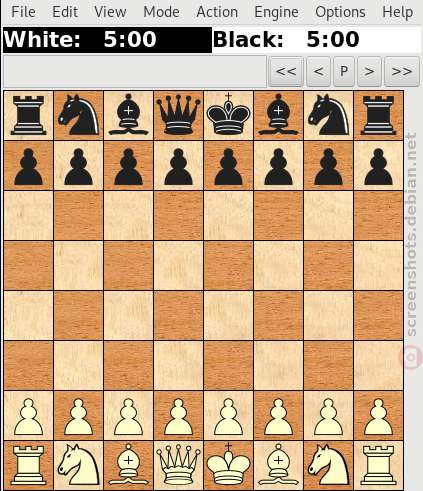 XBoard is a graphical chessboard that can serve as a user interface for chess programs, for the Internet Chess Server, or for electronic mail correspondence chess. It supports all major forms of chess, such as international chess, xiangqi and shogi. XBoard can also be used by itself as viewer for stored chess games.

XBoard uses the Helvetica font (located in the xfonts-75dpi and xfonts-100dpi packages) by default. However, other fonts can be specified via a command line option or an X resource.
Project site:
http://savannah.gnu.org/projects/xboard/
Reviews
Quisque aliquet tincidunt turpis eget euismod. Nullam a arcu nec tortor placerat dictum. Sed a orci id metus sollicitudin consequat cursus sed felis. Cras euismod mi ac orci iaculis tempor. Nullam eget suscipit sapien. Nulla eu viverra arcu. Sed in sem sit amet justo porta eleifend. Nam aliquet iaculis tincidunt.
Related
x-terminal-emulator
We should render this packages through an ajax call