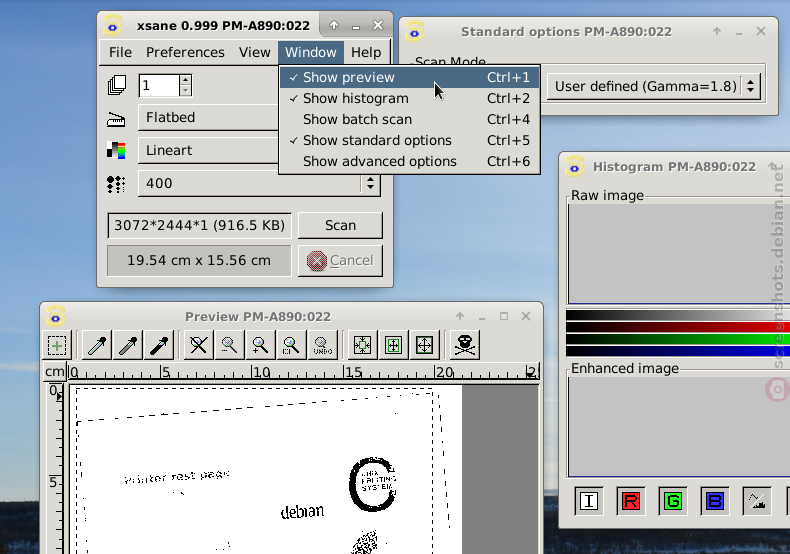 xsane can be run as a stand-alone program or through the GIMP image manipulation program. In stand-alone mode, xsane can save an image to a file in a variety of image formats, serve as a frontend to a fax program, or send an image to a printer.

SANE stands for "Scanner Access Now Easy" and is an application programming interface (API) that provides standardized access to any raster image scanner hardware (flatbed scanner, hand-held scanner, video- and still-cameras, frame-grabbers, etc.). The SANE standard is free and its discussion and development are open to everybody. The current source code is written to support several operating systems, including GNU/Linux, OS/2, Win32 and various Unices and is available under the GNU General Public License (commercial applications and backends are welcome, too, however).
Reviews
Quisque aliquet tincidunt turpis eget euismod. Nullam a arcu nec tortor placerat dictum. Sed a orci id metus sollicitudin consequat cursus sed felis. Cras euismod mi ac orci iaculis tempor. Nullam eget suscipit sapien. Nulla eu viverra arcu. Sed in sem sit amet justo porta eleifend. Nam aliquet iaculis tincidunt.
Related
gimp, hylafax-client | mgetty-fax, gv, gocr
We should render this packages through an ajax call